May 27, 2021
1,021
303
83
McCain was aboard the Forrestal as a lieutenant commander piloting an A-4 Skyhawk for the U.S. Navy on July 29, 1967, the day of the fire. The Forrestal had recently been resupplied with munitions, including 1,000-pound bombs from the Korean War, stored on the deck, because modern bombs were in short supply. McCain's jet was parked on the deck, tail pointed outward before takeoff, as the ship sailed in the Gulf of Tonkin.

​
McCAIN THE HERO NEARLY SUNK AN AIRCRAFT CARRIER & KILLED 134 SAILORS

​
Via Lew Rockwell
McCain, when a Lieutenant Commander in the U.S. Navy was a Navy pilot (they call themselves aviators). July 29, 1967 while on the deck and in his plane on the carrier U.S.S. Forrestal he managed to screw up procedures (officially denied and covered up by him and the Navy and also even promoted on Wikipedia if you care to look–reason to follow). He did a smart ass punk attention getting trick by doing a "wet start" up of his jet.

When a pilot wants to be a wise ass or show off, this type of engine start creates a large startling flame and lots of surprise noise from the rear of a jet engine on start up–this was no accident. This and the large subsequent electrical surge and apparent (incorrect and against policy) weapon arming (by the pilot) caused the launching of a powerful Zuni rocket across the carrier's deck hitting other parked planes (photo below) that were packing 1,000 high-explosive pound bombs. The subsequent massive explosions, fire and destruction went several decks below and nearly sunk this major 82,000 ton U.S. aircraft carrier.



This stunt and aftermath caused the death of 134 sailors and seriously injure (blow off arms legs, cause blindness and burns to another 161 sailors) and took the ship off the battle line for extensive repairs. Any other Navy pilot causing this type of death and destruction the Navy would have raped him and he would probably still be in the brig. Why not McCain? Well, first with many powerful connections this "little infraction" was covered up by the Navy (our most politically involved/connected service by the way).
You see his grandfather was a famous FOUR STAR Navy admiral and his dad was at the time of the incident was a powerful Navy FOUR STAR admiral and McCain graduated from the Navy Academy. So the old boy Navy tradition cover his ass network went into high gear immediately; and make no mistake, it does exist and it did for him.
​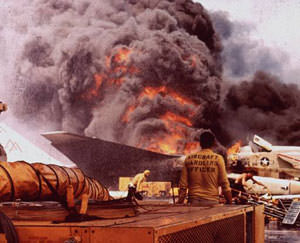 Troubling questions hover over then-Lt. Cmdr. McCain's actions in a catastrophic 1967 fire aboard the aircraft carrier Forrestal and the period immediately afterward. His later accounts of events that followed the accident also raise issues.
www.truthdig.com
Last edited: