Feb 13, 2021
2,165
460
83
— Who is behind the plan to control the world ?​
W
e have been talking about a group of people who are called 'globalists'. So, who are these 'globalists' anyway? They are wealthy, influential people around the world who plan to create one global government. This will enable them to control every human being on the planet. Their strategy is to dominate every area of our societies: health care, food industries, media, governments, religion, everything.
Total world domination has been a diabolical desire of many powerful leaders throughout world history. Just think of the notorious world empires of Rome, Great Britain, the Persians, . . . and so on.
This perverse passion hasn't left the corrupt hearts of humanity, but the means to achieve this goal goal have changed. Instead of invading nations with tanks and bazookas, they now enslave humanity using the force of fear. Once they can create enough panic, they can present the 'solution'. This solution however means removing our freedom and submitting us to their control.
Main players in globalism are the United Nations, the World Economic Forum, the World Health Organization, the European Union, the International Monetary Fund, the World Bank, and especially the many private banks that basically control the world already. These visible entities are however just a facade, to hide the true powers, which are the many 'Secret Societies'. Many of these globalists recently gathered in an small town called Davos, in Switzerland, where they expressed how the pandemic will be used to deploy their plans. Here are some of the statements they made:
The pandemic represents a window of opportunity to RESET OUR WORLD. ​
The world must act jointly and swiftly to REVAMP ALL ASPECTS of our societies and economies, from educational to social contacts and working conditions.
EVERY COUNTRY, from the United States to China, must participate, and every industry, from oil and gas to tech, must be TRANSFORMED.' --Klaus Schwab, Founder of the World Economic Forum
The World Economic Forum created a 'spinning wheel' with all their objectives. On it we can see the following three 'projects':
Covid19 followed by Global Governance, and Internet Governance.
Klaus Schwab & His Great Fascist Reset EXECUTIVE CHAIRMAN OF THE WORLD ECONOMIC FORUM Born in Ravensburg in 1938,​
Klaus Schwab is a child of Adolf Hitler's Germany, a police-state regime built on fear and violence, on brainwashing and control, on propaganda and lies, on industrialism and eugenics, on dehumanisation and "disinfection", on a chilling and grandiose vision of a "new order" that would last a thousand years. CLICK THE LINK BELOW IN BLUE FOR THE REAL STORY OF THIS MAN CRIMINAL PAST HISTORY .​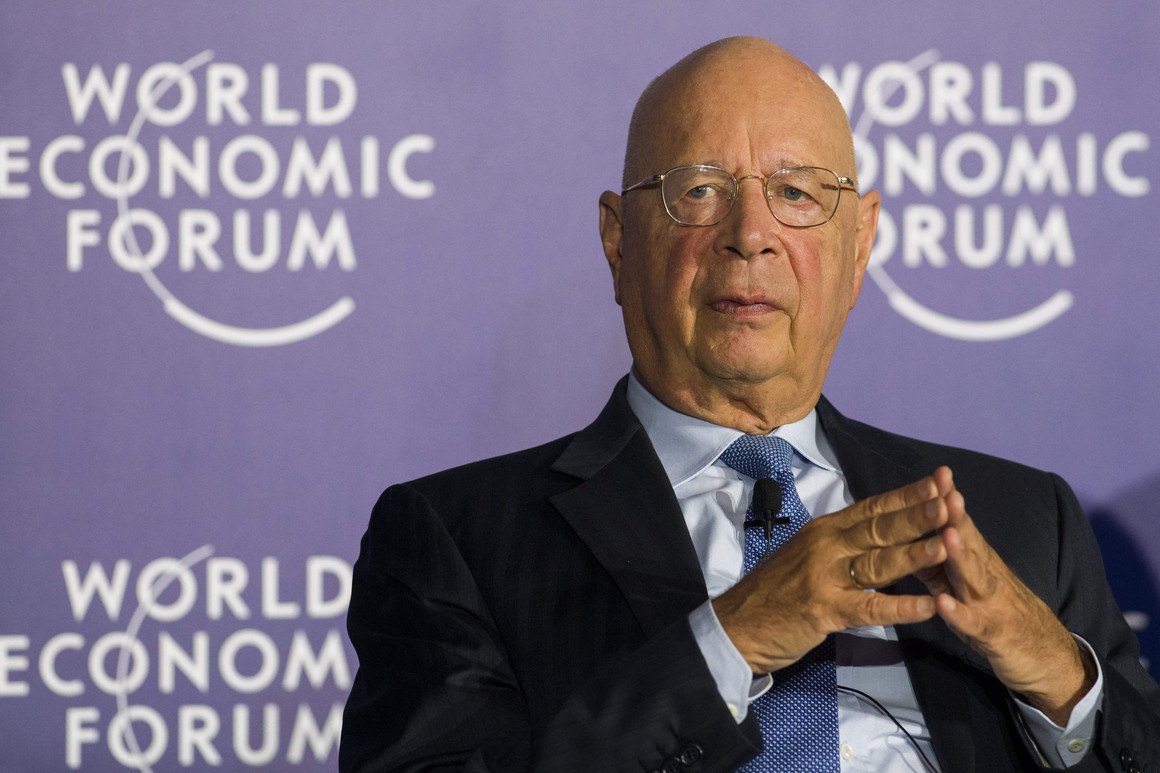 Winter Oak Born in Ravensburg in 1938, Klaus Schwab is a child of Adolf Hitler's Germany, a police-state regime built on fear and violence, on brainwashing and control, on propaganda and lies, on i…
off-guardian.org
'Now is the historic moment in time, not only to fight the virus, but ----- TO SHAPE THE WORLD PLAN SYTEM
— Nobody wants these organizations :​
Not a single human on the earth has voted for these organizations to even exist, let alone take full control of our lives, families, communities, jobs, health, industries, etc. Yet they present themselves as our 'world leaders' who are planning our entire future.
The World Health Organization positioned itself as the boss over our health, without anyone of us having chosen for them.
They apply a tyranny in mainstream media and social media, where no expression of medical or scientific expertise is allowed, unless it is in line with the guidelines of this 'World' organization.
Tens of thousands of medical doctors and scientists have been censored all over the world, by Facebook, Youtube and Twitter. Why? Because these social media giants state that ONLY what the World Health Organization says, is true. That is a clear example of world tyranny by the globalists. They install their own 'world' institutions - that have ZERO authority over anyone of us - but simply because they call themselves 'world' leaders, they assume authority over all of humanity.
Mankind as a whole must submit to the 'World' Health Organization, without ever asking our opinion or even consulting with other medical experts. In fact, every single medical expert speaking out against their decisions is censored.
This means complete loss of medical freedom, loss of freedom of speech, loss of true science, loss of true journalism and an imposing of dictatorships by organizations that nobody voted for, lead by individuals nobody wanted and yet they simply seize ownership of
our
world.
They are the big, fat, mean bully on the playground, that plays boss over everyone.
— World Health Organization is run by a terrorist :​
The head of the Word Health Organization, Tedros Atedros Adhanom Ghebreyesus , is a member of a violent revolutionary communist party in Ethiopia Tigray People's Liberation Front.
The Department of Homeland Security clearly states:
"The TPLF qualifies as a Tier III terrorist organization… on the basis of its violent activities…"
Let this get through to you --The man directing the world World Health Organisation is literally a communist terrorist -- , who has been involved in murdering thousands of innocent people, trying to impose communism on Ethiopia. And this man is bullying the entire world, telling all of us what we can and cannot do, censoring every medical professional who has a different opinion, demanding blind obedience from all of humanity, while imposing mandates to be vaccinated by their number one financial sponsor,Bill Gates.
Is this the world you want to live in, from now on?
— More and more pandemics, untill mankind submits :​
T
hese globalists even threaten humanity with more suffering, if we don't submit to their total control. Prince Charles recently joined the globalists and publicly stated:
" There will be more and more pandemics, if we don't do 'the great reset' now. "
Bill Gates already calls this
'pandemic one'
and is talking about
'pandemic two and three'
. The investigator who back in 2013 predicted a coronavirus pandemic to occur in 2020, followed by riots, said the plan is to create series of pandemics during 2020-2030.
This decade is the selected timeframe to turn the world into one big banana republic, run by powerhungry madmen, who depopulate the earth, and enslave the rest of humanity.
They are planning to cause as many pandemics as needed, in order to break the back of humanity, until everybody submits to their global control. Mandating vaccines are key to their plan, because the vaccines will connect us to global control systems. Only the vaccinated will be able to move freely.
Are you beginning to understand why more than 500 medical doctors from Germany, 600 doctors from Spain, thousands of medical experts from the USA and many more all over the world are calling this pandemic a 'global' crime'?
---- LEADERS OF CATHOLIC CHURCH WARN HUMANITY ----
A
n archbishop and several cardinals of the Roman Catholic Church wrote a letter to humanity, to warn us for global tyranny under the guise of COVID-19. This is an excerpt of this historic message, which was translated in many languages and sent to leaders all over the world.
" We have reason to believe, on the basis of official data on the incidence of the epidemic as related to the number of deaths, that there are powers interested in creating panic among the world's population with the sole aim of permanently imposing unacceptable forms of restriction on freedoms, of controlling people and of tracking their movements. The imposition of these illiberal measures is a disturbing prelude to the realization of a world government beyond all control. "
— Is there hope? What can we do?
I
s there any hope for our future, or are we surrendered to the merciless hands of these wicked mega-billionaires who want to depopulate the earth and seize total control over humanity?
Yes, there is hope. The future is brighter than we can even imagine!
This is not a doom and gloom scenario, but a wake up call for humanity to stop blindly believing the mafia-media and perverse politicians, and rise up as one for a future of freedom. create a unique and historic movement of Global Freedom Fighters, who will lead humanity into a new era of hope, restoration and more freedom than we have ever known.
The Depopulation Agenda - Bill Gates Plan to Kill You -------

​
The director of the World Health Organization said that the world would not go back to the way it was before the coronavirus, even if a vaccine is found to combat the pandemic.
WHO Director-General Tedros Adhanom Ghebreyesus made the comments in a media briefing on Friday. He noted that several countries had seen cases fall only to see a second wave hit months later.
"Progress does not mean victory," said Tedros.
"Even if we do have a vaccine, it wouldn't end the pandemic on its own. We must all learn to manage and control this virus using the tools we have now, and make the adjustments to our daily lives that are needed to keep ourselves and each other safe," he continued later in his speech.
"Lockdowns are not a long term solution"
"So-called lockdowns enabled many countries to suppress transmission and take the pressure off their health systems," Tedros said.
"But lockdowns are not a long term solution for any country. We do not need to choose between lives and livelihoods or between health and the economy. That's false choice. On the contrary, the pandemic is a reminder that health and the economy are inseparable," he continued.
"WHO is committed to working with all countries to move into a new stage of opening their economies, societies, schools, and businesses safely. To do that, every single person must be involved.
"Every single person can make a difference. Every person, family, community and nation must make their own decisions based on the level of risk where they live," he added.
Climate change [But of Course!]
Tedros explained that local governments can best assess what risk they are facing and what steps to mitigate the spread of the coronavirus.
"At the same time, we will not, we cannot, go back to the way things were," he continued.
"Throughout history, outbreaks and pandemics have changed economies and societies, this one will be no different," Tedros added.
"In particular, the pandemic has given new impetus to the need to accelerate efforts to respond to climate change," he said. "The pandemic has given us a glimpse of our world as it could be, cleaner skies and rivers."
The WHO has been criticized for evidence that they were complicit in helping China hide the coronavirus during the early stages of the pandemic.
Tedros himself has been accused of being too closely tied to China, with some critics noting that the country aided his ascendance to the directorship of WHO.
In addition to all that Tedros is also accused of being a member of the terrorist group the tigray people's liberation front TPFL , at the beginning of his political career, which means that the World Health Organization is being led by a terrorist.
Did Bill Gates & World Economic Forum Predict Coronavirus Outbreak? An Inside Look May Shock You! In this report we take an inside look at Event 201, which took place in NYC on October 18 2019. Event 201 is a high-level pandemic exercise hosted by the Johns Hopkins Center for Health Security in partnership with the World Economic Forum and the Bill and Melinda Gates Foundation. This is extremely fascinating because this pandemic simulation exercise of coronavirus took place about 6 weeks before the first illness from the coronavirus was actually reported in wuhan china! That is one hell of a coincidence if you believe in that sort of thing. Another fascinating connection, is the fact that not only did the Bill and Melinda Gates Foundation participate in and help set up the pandemic simulation of a coronavirus outbreak, but they just so happen to fund the group who owns the patent to the deadly coronavirus and are already working on a vaccine to solve the current crisis. Again an incredible coincidence… In this report you will see footage from inside the event as the members of the emergency epidemic board in this simulation, which consists of representatives from major banks, the UN, the Bill and Melinda Gates Foundation, Johnson and Johnson, logistical powerhouses, the media as well as officials from China and America's CDC just to name a few. This simulation also includes news reports that were fabricated just for this exercise, please keep that in mind because they are eerily similar to reports we are currently seeing regarding this real world coronavirus outbreak.​
---
B
ill Gates is the world's nr one vaccine dealer, who has doubled his fortune of 50 billion dollars to over 100 billion, simply by dealing vaccines all over the world. He said this has been his 'best business investment' ever. A few months before the outbreak, Bill Gates organized an event in New York City, called Event 201. Guess what the event was all about? It was a
'coronavirus pandemic exercise'
.
Yes, you read that right: Bill Gates organized a coronavirus pandemic exercise, right before the coronavirus pandemic happened!
​
Bill Gates practised for a global coronavirus pandemic, right before a global coronavirus pandemic happened.​
Excitement about​
selling vaccines in the next year​
---
S
hortly after this 'exercise for a coronavirus pandemic' Bill Gates tweeted:
I'm particularly excited about what the next year could mean for one of the best buys in global health: vaccines.
T
hink about this: the world's nr 1 vaccine dealer
guarantees
a global pandemic to occur in the next few years, and his wife said we should all fear an engineered virus that is 'on its way'. Then they organize an exercise for an imminent global pandemic and say vaccines will be the only solution. Next... Bill Gates tweets how excited he is about selling vaccines in the next year. Immediately after that, the announced pandemic breaks out.
And indeed, right away Bill Gates proclaims that the only solution for humanity is to buy his vaccines...
Last edited: