Pedophile Pastor Jack Schapp plans to open schools for children to continue sexual abuse at churches
Pastor of First Baptist Church of Hammond, convicted​
taking a 16-year-old girl across state lines for sex​
pedophile pastor Jack Schapp is seeking a compassionate release because of the COVID-19 pandemic and his record as a "model prisoner," according to court records.​
In the future, Pedophile Pastor Jack Schaap will be working with a nonprofit "to work to empower missionaries around the world, establish independent missionary schools to train young children and young people, and help to establish churches to meet the needs of people in foreign countries ."​
First Baptist Church 473 Sibley Street Hammond, Indiana phone: (219) 932-0711 email:
connect@fbchammond.com
Jack Schaap pedophile pastor 62, pleaded guilty to taking a 16-year-old girl he was counseling at First Baptist across state lines for sex, and in March 2013 he was sentenced to 12 years in federal prison. He is serving his sentence in Ashland, Kentucky.
In a recent court document, Pedophile Pastor Jack Schaap wrote he asked for a pre-indictment plea "to show (he) accepted full responsibility and to avoid a lengthy trial period which (he) felt would be detrimental" to the church "and to prevent any other staff personnel from being indicted."​
"Although there were extenuating circumstances and I did not know I was violating the law, the fact is I did violate the letter of the law and I did plead guilty. I realize the seriousness of the crime and accepted responsibility for it," Schaap wrote.​
Pedophile Pastor​
Jack Schapp Preaching A Polished Shaft at Teen Week​
He simulated a erect penis and masturbated​
pedophile gropes women that visit his jail​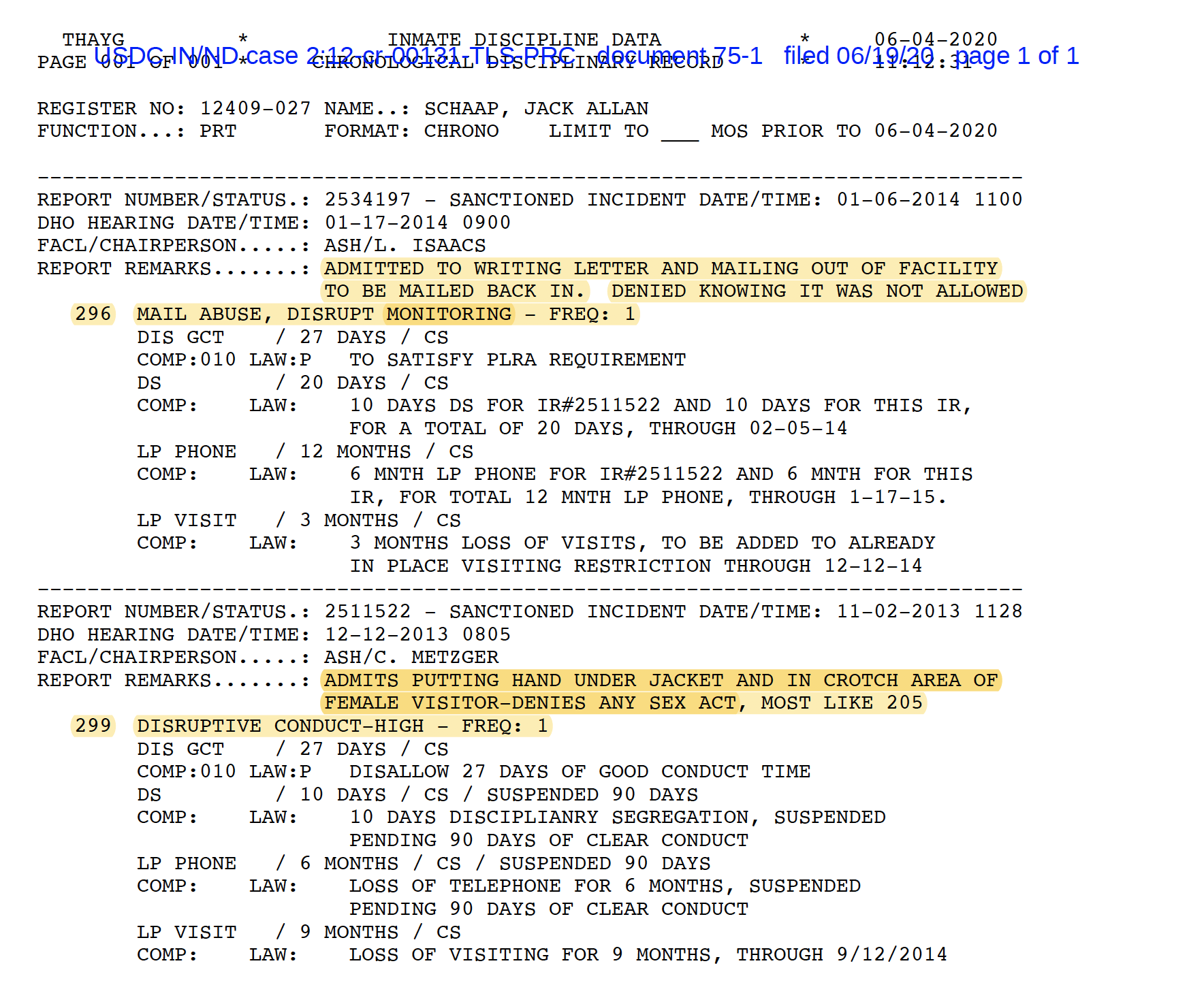 In 2013 – the year after he was sentenced by Judge Lozano – Defendant admitted putting his "hand under [the] jacket and in the crotch area of a female visitor," for which he was disciplined. Id. And a year later, Defendant admitted "writing [a] letter and mailing [it] out of [the] facility [where he was housed] to be mailed back in." Id. Interestingly, when confronted about this latter violation, Defendant "denied knowing it was not allowed" (id.) – much like he now claims that he "did not know [he] was violating the law" by arranging for someone else to transport a minor to Michigan and Illinois so he could have sex with her.
Pedophile pastor Jack Schaap was First Baptist Church of Hammond founder Jack Hyles' son-in-law, and Schaap became pastor at First Baptist after Jack Hyles died in 2001.
Various news articles, including Chicago Magazine and the Star-Telegram in Fort Worth, Texas, have documented the patterns of alleged sexual abuse and sexual assault – most cases involving teenage girls – by church leadership, including David Hyles, Jack Hyles' son.​
​
The biggest PPP loan to a religious organization went to First Baptist Church of Hammond, Indiana, which was able to retain 322 employees with a loan of between $350,000 and $1 million.​