Jan 8, 2021
1,927
1,915
113
LOVING THIS!!!! ALL WESTERN COUNTRIES SHOULD DO THIS IMMEDIATELY AS WELL. Poland is such a right wing pride country. It is about the only one left in the Europe. Rest just follow the satanists pathway...
Poland's abortion laws were already among the strictest in Europe but the Constitutional Tribunal's ruling will mean an almost total ban.
Once the decision comes into effect, terminations will only be allowed in cases of rape or incest, or if the mother's health is at risk.
Rights groups had urged the government not to increase restrictions.
The Council of Europe's commissioner for human rights said the day marked a "sad day for women's rights".
"Removing the basis for almost all legal abortions in Poland amounts to a ban and violates human rights,"
Dunja Mijatovic wrote on Twitter
.
A majority of the court's judges were nominated by the same party.
Almost all legal abortions in Poland are performed on the grounds of foetal defects, so this ruling, which is final and binding, effectively bans pregnancy terminations.
Poland is one of Europe's most strongly Catholic countries, but there was no public clamour for this. For years opinion polls said a clear majority of Poles opposed a more restrictive law.
Bishops and lay Catholic groups pressured the governing Law and Justice party to impose a stricter law. The party supports traditional Catholic values but changing it was problematic. There was opposition both in parliament and on the streets. In 2016 an estimated 100,000 people, mostly women, protested to block an attempt to tighten the law.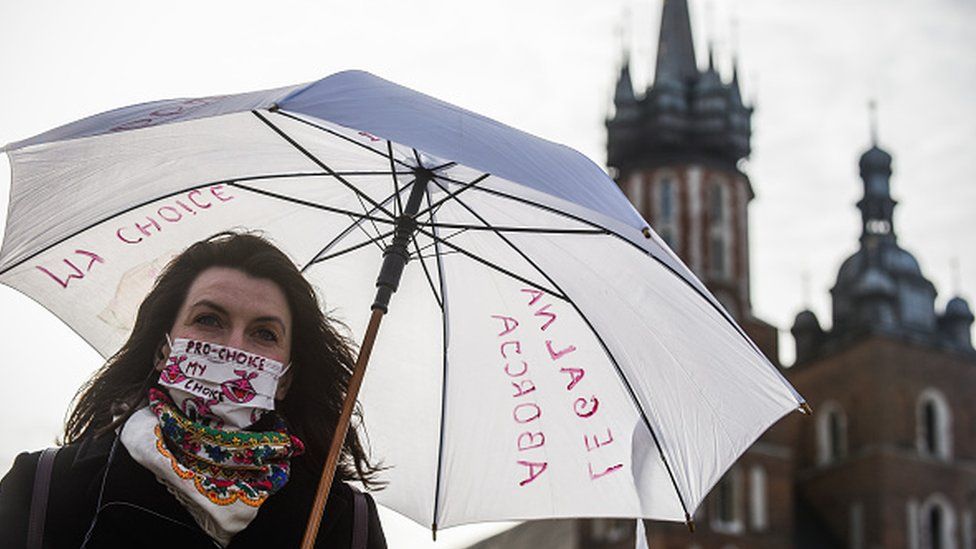 iActivists held socially distanced protests against the proposals earlier this year
Late last year a group of governing party and far-right MPs decided to ask the court to decide the issue. This was convenient because a majority of the court's judges were nominated by Law and Justice. It would also avoid a stormy and emotional parliamentary debate and accompanying anger on the streets in those pre-Covid days.
Now, with public gatherings limited to a maximum of 10 people in most major cities, opponents of this change will have to find other ways to show their anger.
There were just over 1,000 legal pregnancy terminations in Poland last year.
Compare that with this statistic: women's rights groups estimate between 80,000 and 120,000 Polish women a year seek an abortion abroad. Even women who qualify for a legal procedure often face challenges to having one: such is the stigma surrounding the issue.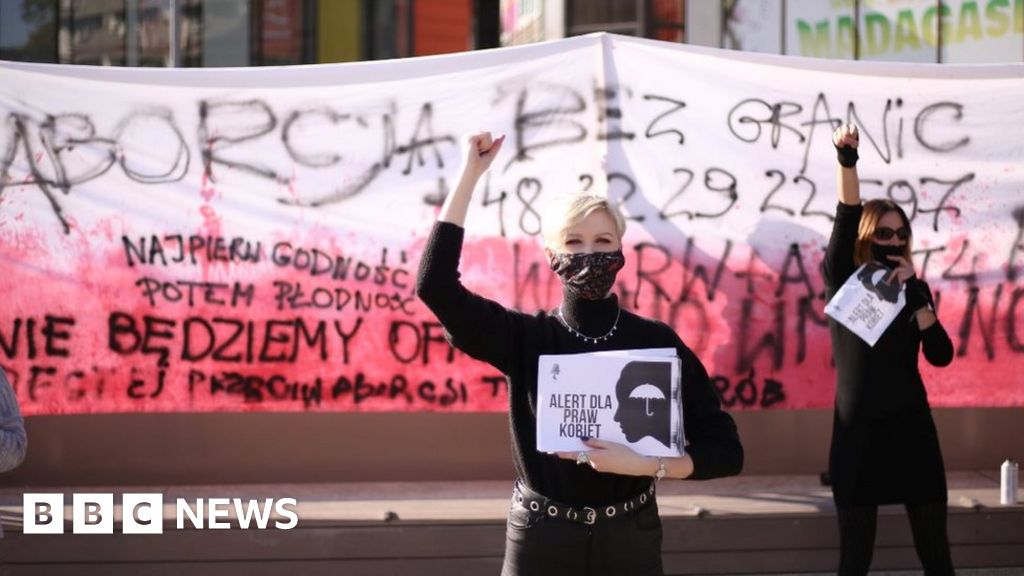 Poland has some of Europe's strictest laws, but the constitutional court tightens them still further.