Dec 2, 2019
10,713
15,462
113
This is a "historic airlift"

125 Air National Guard aircraft flew 134 sorties in the last three days

They airlifted into DC 2.3 million pounds of cargo from around the nation

The volume of aircraft, personnel, and equipment is unprecedented

They're even flying in 80 Guardsmen aboard a KC-135 Stratotanker into DC from...wait for it...ALASKA.

All for a guy who can't get out of his basement without "fracturing his foot".

SOMETHING. IS. GOING. DOWN.

Historic Air National Guard airlift brings troops to DC
WASHINGTON – Thousands of National Guard troops continued to stream into the nation's capital Saturday to support law enforcement during the presidential inauguration, building to a force of up to 25,000 members. Many of the Soldiers and Airmen are getting there via the Air National Guard in a historic airlift.

Some 125 Air National Guard aircraft flew 134 sorties into Washington Jan. 12-15, bringing more than 7,060 National Guard troops and 2.3 million pounds of cargo from around the nation. The flurry of flights into Joint Base Andrews in Maryland continued Saturday, handled by the 89th Airlift Wing.

"The type of mission that we are involved in right now just demonstrates the nature of the Air National Guard," said Lt. Gen. Mike Loh, director, Air National Guard. "We pride ourselves in being the first to the fight, whether it be responding to natural disasters, COVID-19, civil unrest, or providing support to our local, state, and federal partners for the inauguration."

"The volume of aircraft, personnel, and equipment that is processing through Andrews is pretty much unprecedented," said Lt. Col. Devin T. Robinson, director, Air National Guard public affairs. "Our Guard Airmen are turning a massive number of aircraft in a very short period of time - it really is amazing!"

On Sunday, the Alaska Air National Guard's 168th Wing will fly about 80 Guardsmen aboard a KC-135 Stratotanker from Eielson Air Force Base on a seven-hour flight to Joint Base Andrews.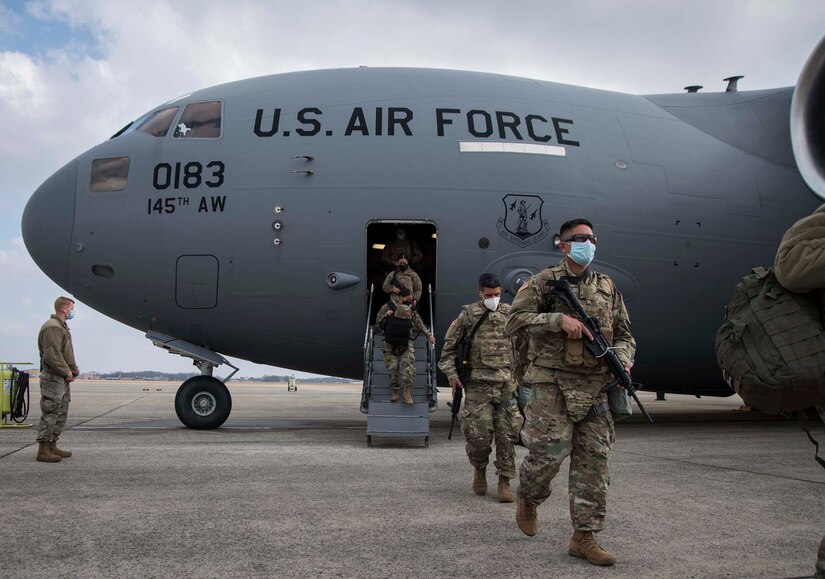 WASHINGTON – Thousands of National Guard troops continued to stream into the nation's capital to support law enforcement during the presidential inauguration, building to a force of up to 25,000